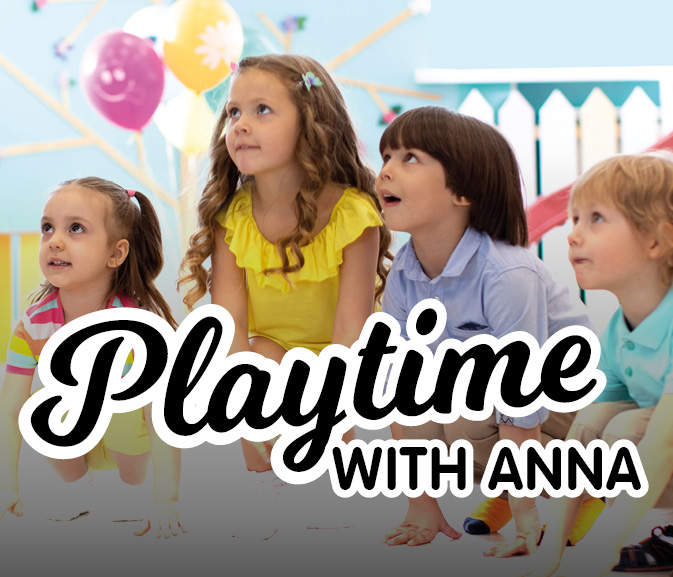 Playtime with Anna
29 April, 2021-24 June, 2021
Join Anna for music, stories and activities that will leave your littles ones feeling connected and inspired. For term 2, we're moving to a 60-minute session, including a fun craft activity at the end of the session.
Suitable for children aged 2 - 6 years old. All children must be supervised by a parent or guardian.
When: every Thursday during school term
Time: 10am - 11am
Location: Outside of Kmart
Bookings essential. To book, CLICK HERE.


THIS TERM'S SCHEDULE

THURSDAY 3 JUNE: WELCOME WINTER
It's the first week of Winter and what better way to warm up our little bodies than a full hour of movement, music and activities to celebrate the beauty of Winter. Scrunch and throw paper snowballs into the basket, join in the Winter Hokey Pokey and craft your very own winter tree collage out of twigs at the craft table.

THURSDAY 10 JUNE: A FEW OF MY FAVOURITE THINGS
Do you have a favourite teddy or toy? We'll be exploring what our favourite things are today through musical activities, games, stories and craft. You may even like to bring your favourite toy or a photo along to the session for show n tell.

THURSDAY 17 JUNE : PRINCES AND PRINCESSES
Calling all Royalty to our Magical Kingdom this week! Dress up as your favourite Royal character - Prince, Princess or even Knight in Shining Armour and enjoy an hour of sparkly songs, a Disney Princess Quiz and story. Have fun crafting your own glittery crown before heading to the Royal Ball for some dancing fun with your friends.

THURSDAY 24 JUNE: RAINBOW OF COLOURS
Immerse yourself in colours as we enjoy a collection of colourful songs, games and story and then head to the craft tables to make your own rainbow collage. This will be our last session of Playtime for the Term. Enjoy a fabulous School Holiday period and we'll see you back after the school holidays for more Playtime fun with Anna.


Bookings essential. To book, CLICK HERE.


COVID-19 SAFETY PLAN
A COVID-19 Playtime with Anna Safety Plan by Anna Marriott on behalf of Inspired Play, has been developed in accordance with the recommendations of the NSW Government's Covid-19 Safety Plan and is relevant for Salamander Bay Square. For further details, please read the COVID-Safe information when booking with Eventbrite.